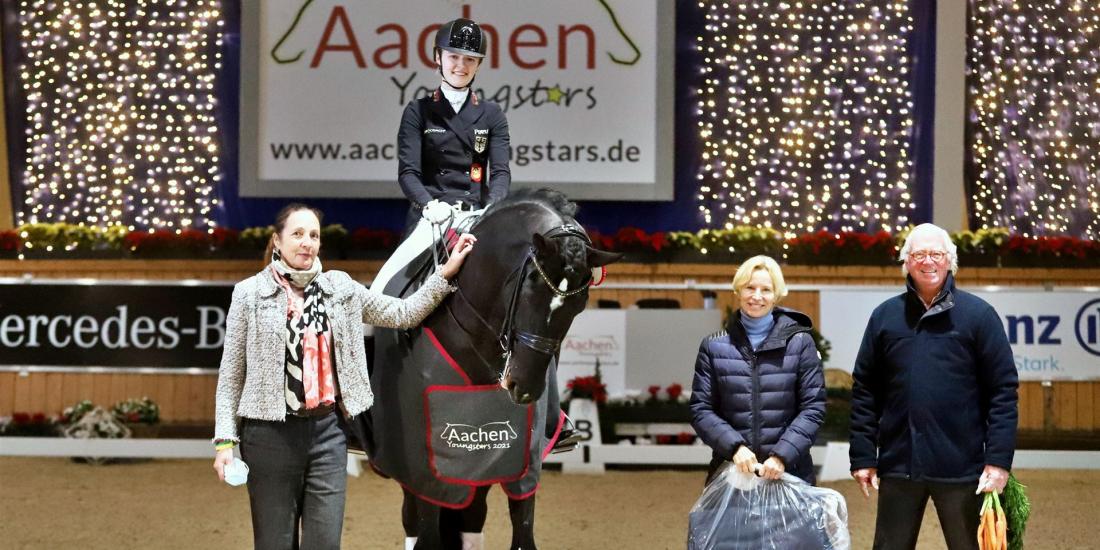 Samstag, 27. November 2021
Allegra Schmitz-Morkramer carries away the victory in the Prize presented by Nadine Capellmann
She came second yesterday, first today: Together with Libertad, Allegra Schmitz Morkramer won the second class of the Juniors, the Prize presented by Nadine Capellmann.
These two are the perfect match: Considering their very harmonious test, one wouldn't have guessed that Allegra Schmitz-Morkramer and her impressive black stallion, Libertad, haven't been a pair for very long. "He is simply a dream horse," the talent from Hamburg raved about her sports partner. "Although he is a stallion, he is totally easy to handle and always super motivated to do everything right under the saddle." And the 9-year-old, Londontime/San Remo son certainly did everything right on this Saturday in the festively decorated Albert-Vahle Arena. 74.902 percent was the end result for the pair. "This victory at this fantastic show and amid this wonderful setting is the absolute highlight of the season," said a delighted Allegra Schmitz-Morkramer.
Yesterday's winner finished second today, Anna Leandra Timm with Foxfire, who let himself get distracted once briefly during the test and went slightly off course. Nevertheless, 73.863 percent sufficed for the silver rosette. The two German riders were followed in third place by the Swiss rider Meilin Ngovan and Dreamdancer (73.382 %).
Photo: Alexander Marx
From the left: From the left: Alice Schwab, Allegra Schmitz-Morkramer, Nadine Capellmann and the Vice-President of the ALRV Supervisory Board, Baron Wolf von Buchholtz.