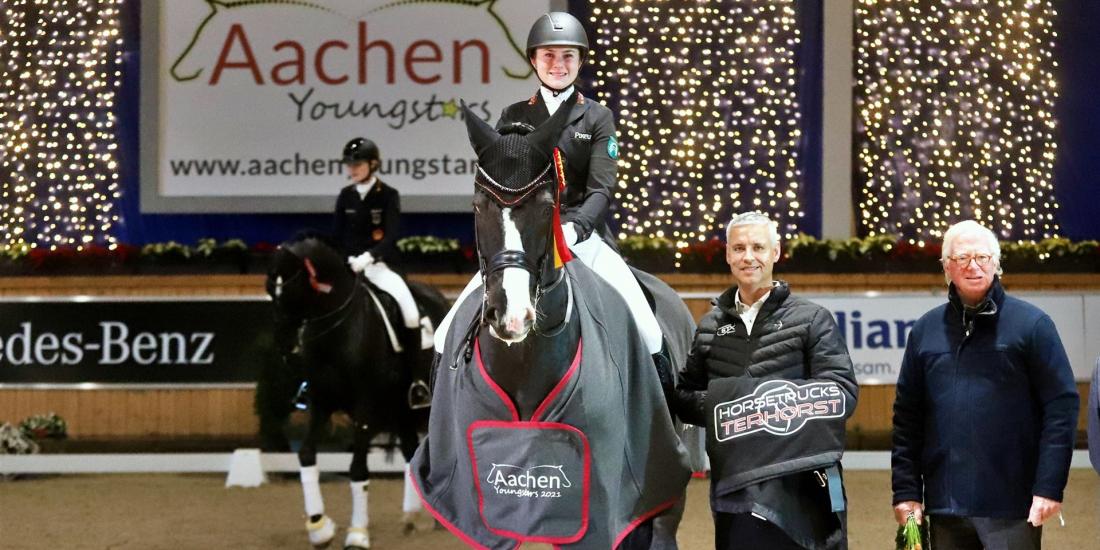 Freitag, 26. November 2021
Anna Leandra Timm wins the Prize of Horsetrucks Terhorst
Many tears of joy were shed during the prize-giving ceremony: Together with Foxfire, the rider from Rhineland, Anna Leandra Timm, won the Prize of Horsetrucks Terhorst, the opening class of the Juniors at the Aachen Dressage Youngstars.
However, Anna Leandra Timm was already overwhelmed by her emotions after her salute. The first international performance with her impressive gelding after a long period of injury was simply a total success. "He supported me fantastically today and worked for me superbly," she said impressed by the performance of her nine-year-old sports partner. "He simply loves performing. As soon as he enters the arena, he grows 10 centimetres taller and knows that everyone is watching him." Of course, the judges watched the ride that was full of highlights extremely closely and subsequently awarded the pair a score of 75.808 percent. A result that exceeded the expectations of the rider by far. "I had hope to achieve 70 percent," the 17-year-old stated. "But the fact that I actually scored over 75 percent, is simply awesome." However, this doesn't put her under any pressure for the following days at the Aachen Youngstars: "Nobody can take today's victory away from me. Now my goal is simply to try and experience that fantastic feeling I had riding today again. I will simply wait and see what the outcome is at the end of the day." In any case, it sufficed for the victory today, ahead of Allegra Schmitz-Morkramer with Libertad (74.646 %) and Lena Merkt with Sarotti Mocca-Sahne (74.343 %), who finished third to complete the German hat-trick.
Photo: Alexander Marx
From the left: Anna Leandra Timm, Michael Terhorst and the Vice-President of the ALRV Supervisory Board, Baron Wolf von Buchholtz.