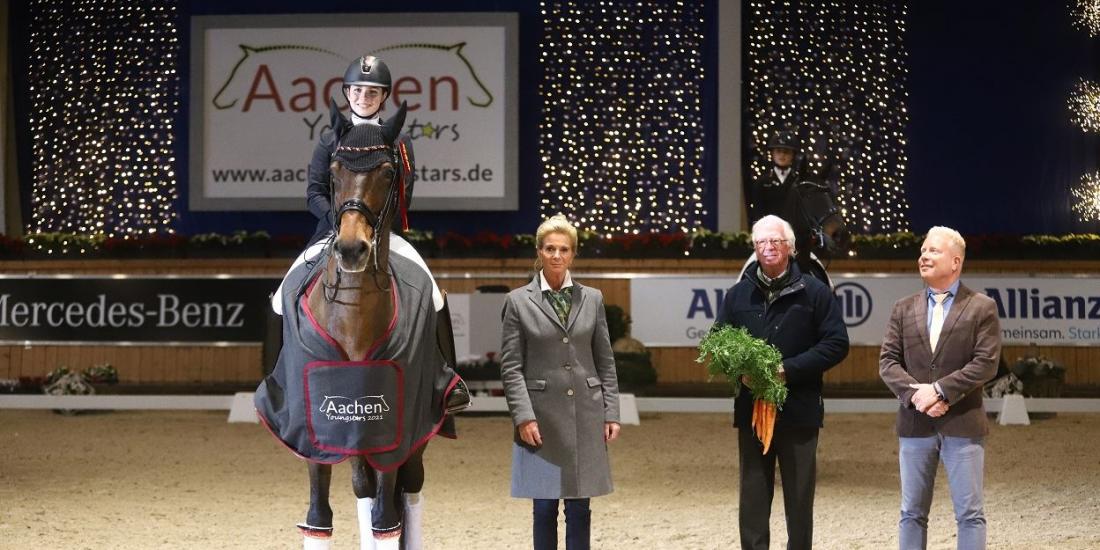 Freitag, 26. November 2021
Jana Lang claims her second victory in the Prize of the Hans-Peter Simons Family
Second class, second victory: there was no beating Jana Lang and her Baron in the Prize of the Hans-Peter Simons Family either, the second class of the Young Riders.
"It simply went perfectly," a delighted Jana Lang said about her second triumph at the Aachen Dressage Youngsters. Like the day before, the team European Champion of the Juniors, put in an immaculate performance together with her Dutch-bred Johnson-son, Baron, with many highlights. "Baron is simply a fantastic partner," the 18-year-old raved about her gelding. "He is very self-confident, which is of a great advantage in such a wonderful, but also very exciting setting, as here in Aachen. He enters the arena, grows a couple of inches and wants to present himself." At the end of the day, the successful duo from Bavaria notched up a score of 75.098 percent – which was even slightly more than on the previous day.
Helena Schmitz-Morkramer was delighted at taking second place. Together with DSP Lifestyle, she achieved a score of 73.922 percent. Lucie-Anouk Baumgürtel and ZINQ Hugo FH came third after being awarded 72.990 percent, thus ensuring a German triple triumph.
Photo: Alexander Marx
From the left: Jana Lang, Alexandra Simons-de Ridder, the Vice-President of the ALRV Supervisory Board, Baron Wolf von Buchholtz and Maarten Van der Heijden