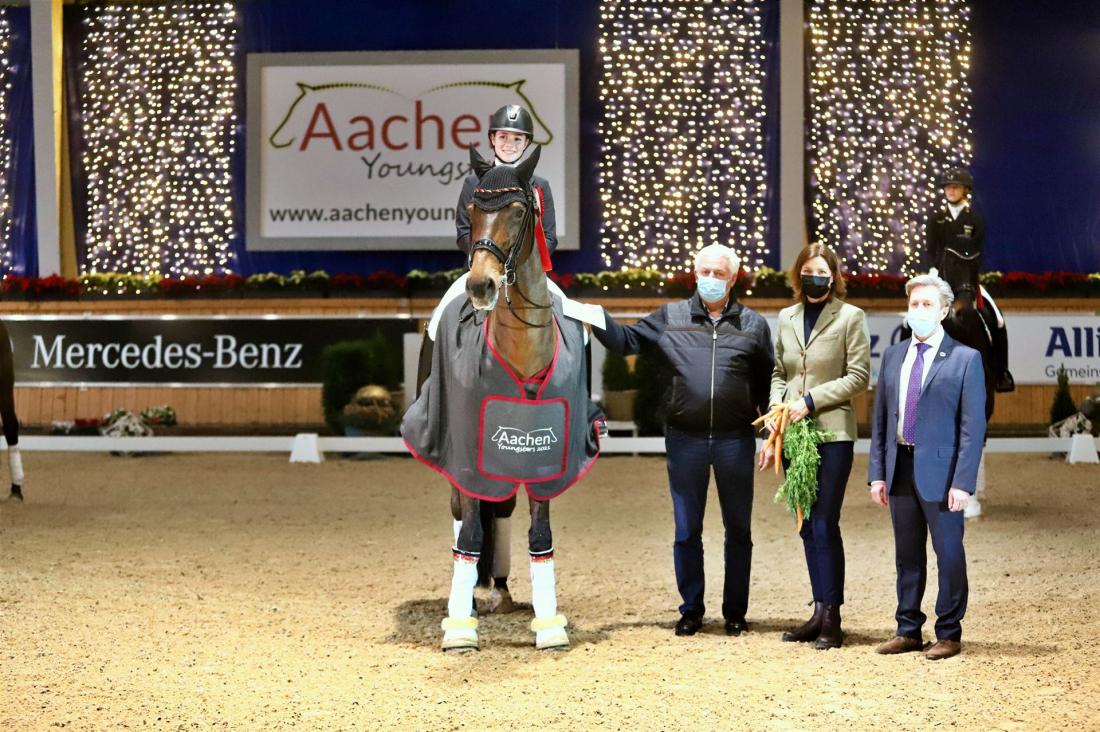 Samstag, 27. November 2021
Jana Lang claims her third victory in the Prize of Family Hans-Peter Simons
The 18-year-old claimed the Young Riders Champion 2021 title, the Prize of Family Klaus Peters
The tears flowed in the prize-giving ceremony: Jana Lang could hardly believe she had won. The team European Champion of the Juniors excelled in all three classes, although it was her international debut in the Young Riders classification. In the concluding Freestyle competition, the Prize of Family Hans-Peter Simons, Lang and her sports partner, Baron, notched up an impressive 81.333 percent. "I performed the freestyle routine for the first time ever today. I didn't have any expectations beforehand; I just wanted to perform some good tests and gain a bit of routine. Which is why I am all the more overjoyed at the outcome. I am speechless," the rider beamed.
Three classes, three victories, so it wasn't difficult calculate the result: In addition to the three golden rosettes, Lang also collected the coveted sash, a trophy and the title: Young Riders Champion 2021.
Second and third place in the Freestyle also went to Germany: Helena Schmitz-Morkramer and DSP Lifestyle finished second on a score of 79.083 percent, ahead of Lucie-Anouk Baumgürtel and Zinq Hugo FH in third place.
Photo: Alexander Marx
From the left: Jana Lang, Ton de Ridder, ALRV President Stefanie Peters and chief judge Yuri Romanov.