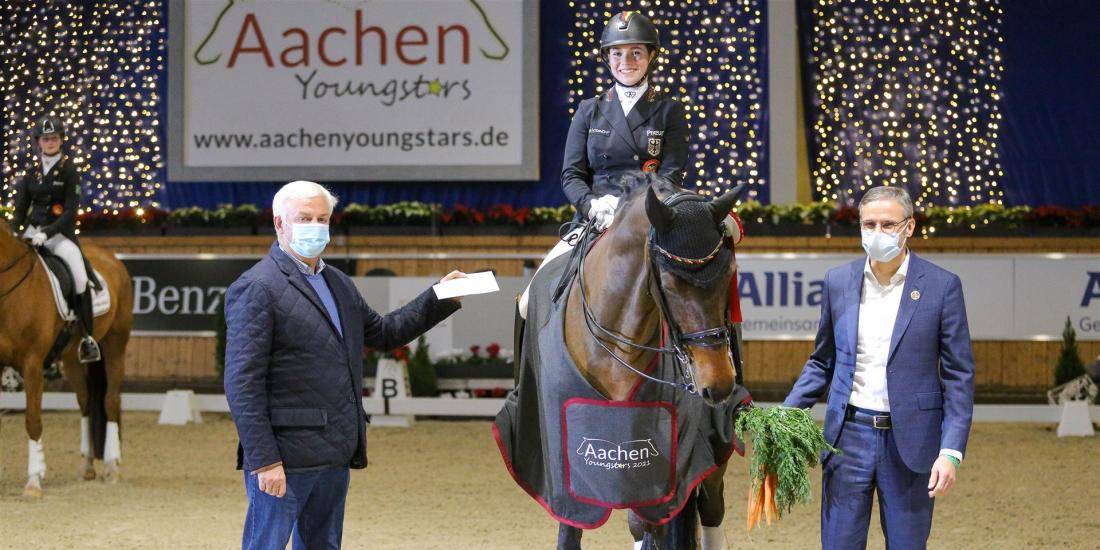 Donnerstag, 25. November 2021
First winner at the Aachen Dressage Youngstars 2021
Jana Lang wins the Prize of the Hans-Peter Simons Family.
The Aachen Dressage Youngstars 2021 has got underway: Jana Lang and Baron win the first class of the Young Riders, the Prize of the Hans-Peter Simons Family.
The European Juniors Team Champion asserted herself against tough competition from a top-class international starting field. The score on the leader board after her ride with the gelding Baron: 74.657 percent. A victory that Lang had not reckoned with in the run-up to the class. "I didn't put myself under any pressure at all, I always go into competitions very relaxed and always try to perform a safe test. That this was the outcome, is of course fantastic," the 18-year-old from Germany stated, who was not only delighted at her victory, but also about participating at the Aachen Youngstars in general: "It is always a dream here. The arena is decorated so beautifully, it gets you in the mood for Christmas straight away."
Second place went to an overjoyed Julia Barbian. She and her mare Valentina were awarded a score of 72.745 percent. Helena Schmitz-Morkramer and DSP Lifestyle followed in third place with a result of 70.980 percent, making the German triple triumph perfect.
Photo: Alexander Marx
From left: Ton de Ridder, Jana Lang and Dr. Thomas Förl, member of the ALRV-Supervisory Board