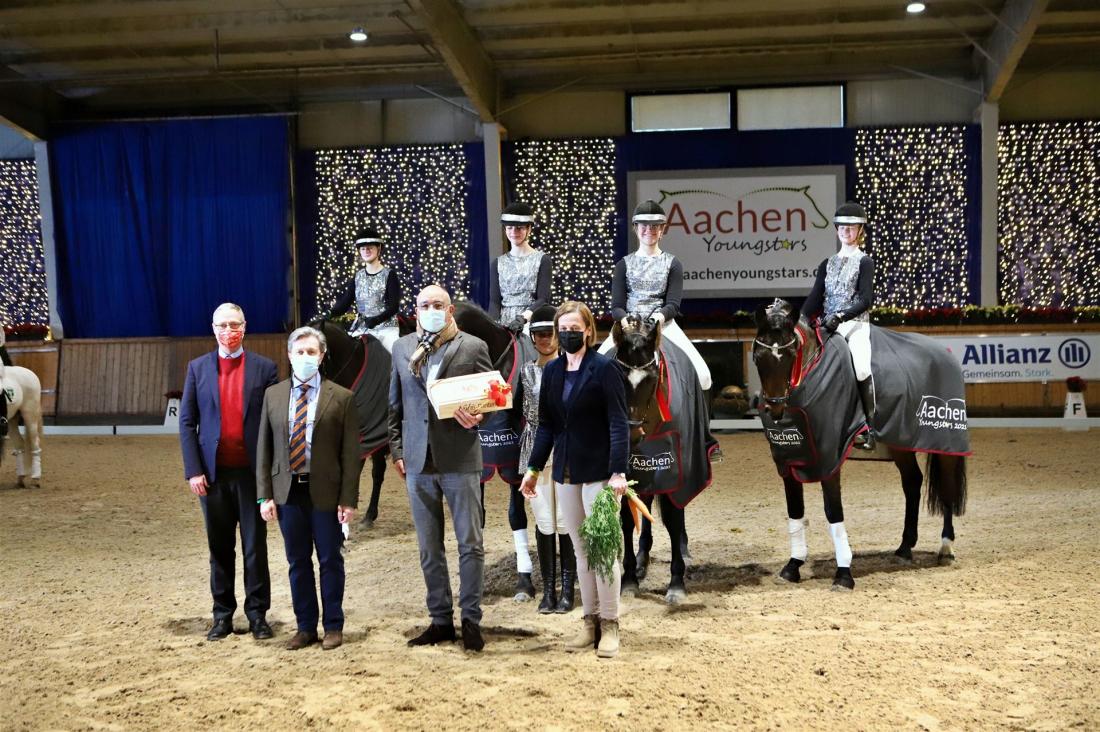 Sonntag, 28. November 2021
Aachen Youngstars Quadrille Championships: Wesel District Association Team 2 wins the Prize of Grundstück- & Gebäude-Service GmbH
Not only the riders glittered festively, the horses entered the ring decorated with stars as well. The overall appearance was extremely consistent. What's more, Sarah Julie Behrens, Kiara Szymkowiak, Viola Elisabeth Pierkes, Franziska Spix and their team leader, Kristin Maiwald, also convinced the spectators and the judges in terms of the choreography, harmony and timing. The fitting and swinging Christmas music added the final ingredients to the winning team. The riders from Wesel District Association Team 1 (Leni-Sophie Gosmann, Emma Buschheuer, Lina Elisabeth Lenkajtis, Jonah Reiter) came second, ahead of the Mettmann District Association Team 1 comprising of Johanna Grebler, Julie Berse, Niwine Berse and Mira Mankel.
Photo: Alexander Marx
From the left: Olivier Smeets, Yuri Romanov, Kleo Goebel (Grundstück- & Gebäude-Service GmbH) and Member of the Managing Board, Birgit Rosenberg.