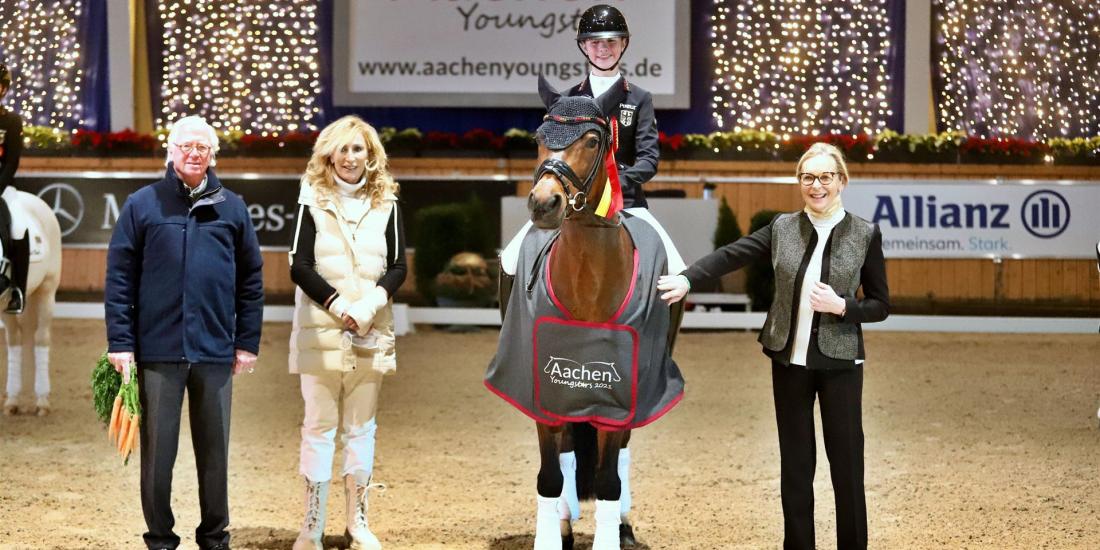 Freitag, 26. November 2021
Prize of the Dahmen Dressage Stables goes to Wermelskirchen
Both the judges and the spectators were impressed by Julie Sofie Schmitz-Heinen and her Carleo Go. The reward: The victory in the Prize of the Dahmen Dressage Stables, the opening class of the pony riders at the Aachen Dressage Youngstars.
But Julie Sofie was also impressed: "The atmosphere here in Aachen is fantastic, the indoor arena looks super with the many lights and Christmas trees, whereby it is also very demanding." Which is why her goal was actually more to get herself and Carleo used to the atmosphere today, so the fact that she left the arena as winner of the first competition surprised herself more than anyone else. "Which is why I am overjoyed and hope that things go just as well as today over the next few days," the pony rider from Wermelskirchen stated. Incidentally, Julie Sophie is a multitalent, because she is also versed in show jumping too. The fact that she is so outstanding at dressage has perhaps also a little do with her parents, who both rode at advanced level themselves. The judges honoured her performance on Friday morning with a score of 77.571 percent. In second place, close at her heels, was Rose Oatley with Daddy Moon; the pair were awarded 77.524 percent, ahead of Liezel Everars and FS Capelli de Niro (75.762 percent).
Photo: Alexander Marx
From left: From left: Vice President of the ALRV Supervisory Board Baron Wolf von Buchholtz, Renate Dahmen, Julie Sofie Schmitz-Heinen and Chief Judge Marietta Almasy.