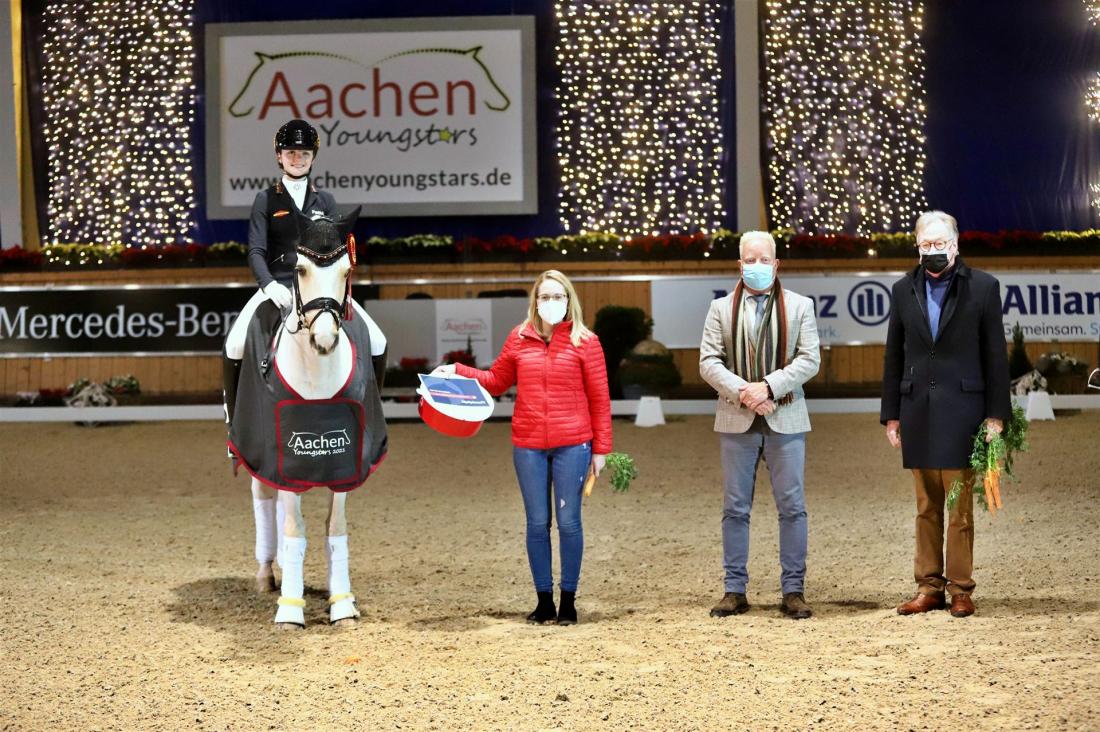 Samstag, 27. November 2021
Rose Oatley unbeatable in the Prize of ClipMyHorse.TV
Nobody could top that today: Rose Oatley and Daddy Moon win the second class of the pony riders, the Prize of ClipMyHorse TV, with just under 80 percent.
The number one in the world rankings from Lütjensee in Schleswig-Holstein knows what it feels like to win the Aachen Youngstars. She already claimed the golden rosette two years ago with her pony gelding, Daddy Moon, two years ago. But her joy at claiming the victory today was equally as high in 2019: "It is wonderful to win here again and to be able to experience the atmosphere here in the arena once more." Oatley and her "Moony", as the rider affectionately calls her pony, put in a strong performance. The judges awarded the pair a score of 79.595 percent. Today, we went into the class more motivated. The communication between us was better than yesterday, which meant the transitions were more accurate," the reigning European Champion explained.
Oatley headed the field with a big lead for a long time, but when Julie Sofie Schmitz-Heinen and Carleo Go – yesterday's winners – entered the ring it was a close call. Ultimately, the pair finished second on a score of 77.207 percent. Mia Allegra Lohe and Tovdal's Golden Future Imperial claimed third place with exactly 75 percent. The final outcome: Three German riders on the winner's podium. A special prize was awarded to the Belgian rider, Liezel Everars. Of all the participants, she presented her pony, FS Capelli De Niro, the most professionally during the vet check.
Photo: Alexander Marx
From the left: Rose Oatley, Lydia Ipach, Maarten Van der Heijden and Frank Kemperman, Chairman of the Managing Board.