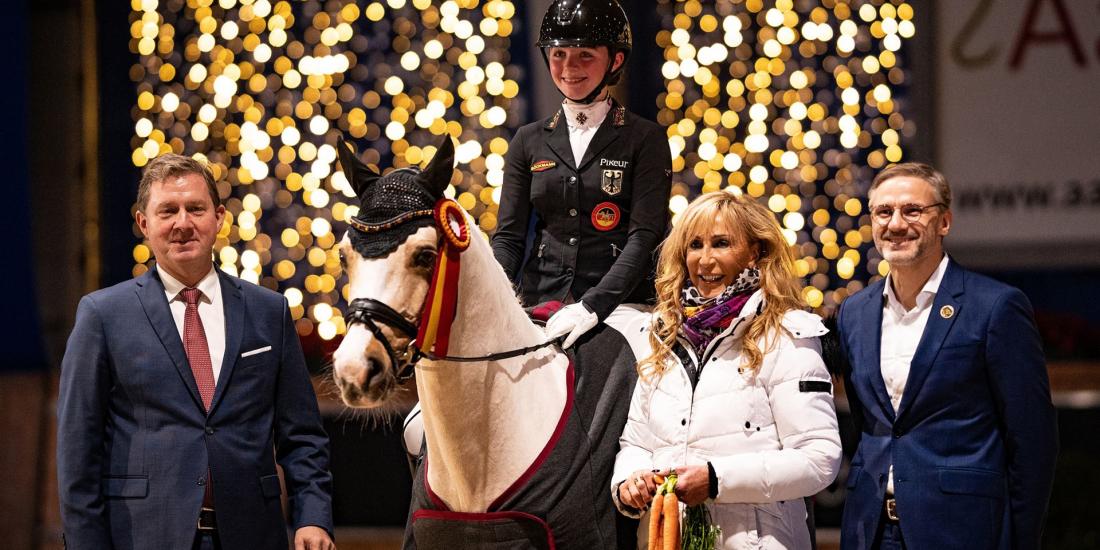 Freitag, 25. November 2022
Rose Oatley and Daddy Moon dominate the prize of Dressurstall Dahmen
The Aachen Dressage Youngstars are simply their show: The 2019 and 2021 Indoor Champions are once again the measure of all things in the opening competition of the pony riders.
A proud 79.667 percent was displayed on the scoreboard as Daddy Moon strutted out of the arena with a relaxed stride and his rider Rose Oatley patted him lovingly and almost non-stop on the neck. And rightly so: in the arena of the festively decorated Albert Vahle Hall, the two had previously managed a test that could hardly be surpassed in sovereignty and light-footedness. "Everything just worked out," said the 15-year-old German. "Moony loves this arena. It's so much fun to present in here in front of this Christmas setting," says the world number one in her age group about her long-time companion, who was also her partner in the triple European Championship triumph in 2021. The beginning of the third title win at the Aachen Dressage Youngstars has now been made and the objective for the coming days is simple: "Moony should be happy. And my mum too, of course." She certainly made them both happy with her performance today. In the end, more than four percent separated the dream team from Lütjensee in Schleswig-Holstein from the competition. With Mia Allegra Lohe with Tovdal's Golden Future Imperial in second place (75.524 %) and Lilly Marie Collin with Cosmo Callidus NRW (75.000 %), two more German riders completed the podium.
Photo: Jil Haak
Congratulating the winner Rose Oatley: (from left) Judge Sven-Günter Rothenberger, Renate Dahmen from the Dahmen Dressage Stables and Dr. Thomas Förl, Member of the Supervisory Board of the Aachen-Laurensberger Rennverein.